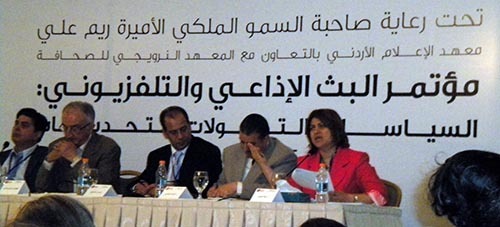 Magda Abu-Fadil
A conference aimed at mitigating hate speech, radicalism, and violence that plague Arab broadcast media took the bull by the horns this week amid heated debate on freedom and government controls.
"Freedom is not dangerous, it's just a bit difficult," argued Frode Rekve at the "Radio and Television Broadcasting Conference: Policies, Transformations, Challenges" organized in Amman by the Jordan Media Institute (JMI).
The JMI is the brainchild of Princess Rym Ali (formerly Rym Brahimi of CNN).
Rekve, from the Norwegian Institute of Journalism that co-sponsored the event, also said he hoped self-criticism in Arab broadcasting doesn't lead to self-censorship.
It's that fine line between the freedom to know and disseminate information, and, holding back on what may be deemed harmful, or could land journalists in trouble.
Taken a step further, it's the risk of inflaming existing tensions, egged on by warring factions that capitalize on the immediacy of broadcast and social media.
Participants also tackled the evolving technological landscape (and divide) head on, acknowledging that many journalists and academicians have not kept pace with the changes.
"Technological developments have led to weird changes in broadcast media," said Hosam Sokkari, a consultant and former head of the BBC's Arabic service. "Journalists still haven't quite understood the implications of those changes."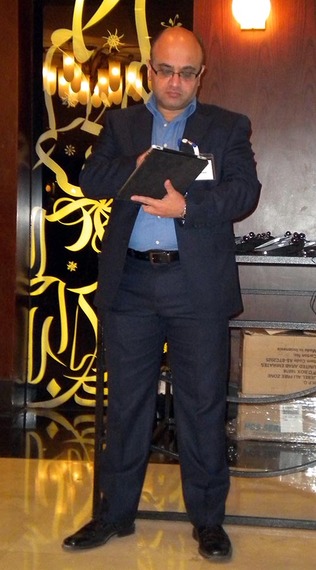 Media consultant Hosam Sokkari (Abu-Fadil)
A key challenge is the proliferation of satellite channels multiplying at an incredible rate as well as their impact on ethics and support for radicalism, said JMI dean Basim Tweissi.
The number of channels is doubling every three years as opposed to every six, he said.
"TV is still the main source of news in the Middle East and North Africa," Tweissi added, pointing to the 1,400 existing Arab satellite channels, of which some 20% air radical religious fare that critics say adds fuel to the region's spreading fires.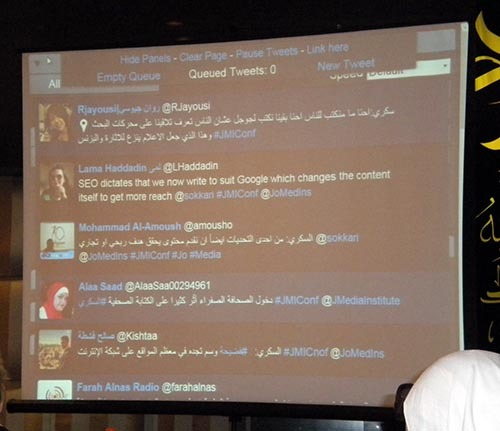 Live tweeting JMI broadcasting conference (Abu-Fadil)
The crisis in Arab journalism, according to France's TV5Monde chief editor Slimjane Zeghidour, is that it's operating in a vast geopolitical area with massive contradictions and wealth disparity.
Zeghidour decried the lack of professionalism and depth in Arab media and blamed Arab journalists for their failures in geography and history, for making endless assumptions, and for misleading their audiences.
Jordanian Member of Parliament Rula Hroub was no less critical, saying her country's laws had failed to keep the media in check.
Far right, Jordanian MP Rula Hroub (Abu-Fadil)
Ironically, Hroub chairs Parliament's public freedoms and human rights committee, serves as a member of the legislature's education and media committee, is a member of the board of governors of the Arab Media Organization, is programs director of the JOSAT TV channel, and presents a political talk show on that same station.
Sarah Nassereddine, a media instructor at Jordan's Middle East University, said institutions of higher learning and training centers had a role to play in capacity building and responding to market demands but were falling short of those goals.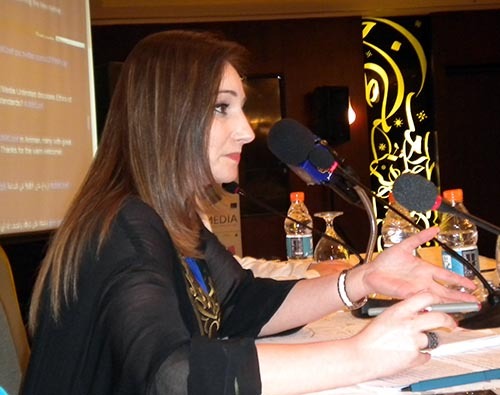 Middle East University's Sarah Nassereddine (Abu-Fadil)
She referred to a survey that found students accustomed to being spoon-fed and to being deficient in critical thinking. She also pointed to a "disconnect" between universities and media employers, often leading to students lacking the needed skills for the job market.
But public service broadcasting expert and Eurovision Academy faculty member Justin Kings said while not everyone must necessarily work cross-platform in the medium, everyone must think cross-platform.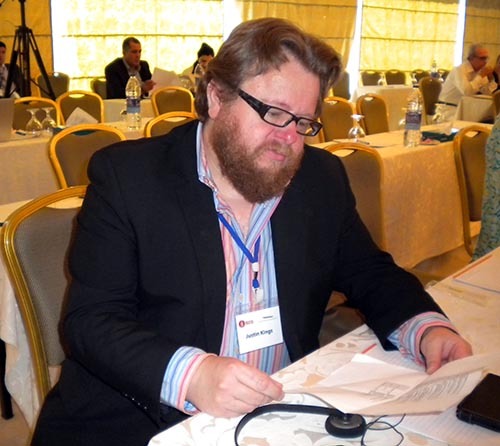 Eurovision Academy's Justin Kings (Abu-Fadil)
The conference comes in the wake of the Jordanian government's announcement it would launch a "private public service broadcasting channel."
Jordanian officials, who did not see the contradiction in terms, insist the channel will be independent from the body running state-owned broadcast outlets while relying on initial funding from government coffers.
According to UNESCO, "Public Service Broadcasting (PSB) is broadcasting made, financed and controlled by the public, for the public. It is neither commercial nor state-owned, free from political interference and pressure from commercial forces."
Palestinian-American journalist Daoud Kuttab was quick to blast the decision in a Jordan Times op-ed saying public service broadcasting should not be run by government.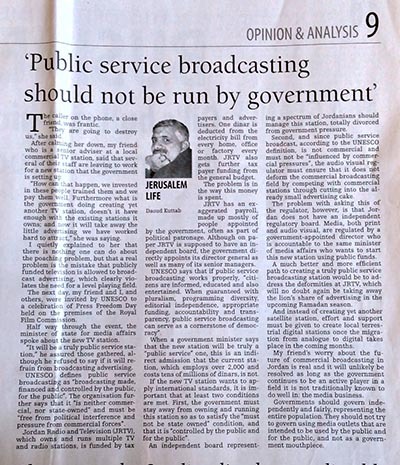 Daoud Kuttab on public service broadcasting (Abu-Fadil)
Rather than create another satellite channel, efforts must go towards creating local terrestrial digital stations, he wrote.
"Governments should not try to govern using media outlets that are intended to be used by the public and for the public, and not as a government mouthpiece," he added.
---
This article was originally published on The Huffington Post. Follow Magda Abu-Fadil on Twitter: www.twitter.com/MagdaAbuFadil
Sign up for the Ethical Journalism Newsletter to get weekly updates on media ethics.