WEST AFRICA
The Gambia: Desperate young take the backway to an uncertain future
By Lamin Jaiteh
West Africa has experienced migration as a result of many factors, including population pressure and violence – communal, ethnic and criminal. Much of this movement can be classed as forced: in recent times it has been driven mainly by poverty, with people seeking better economic prospects elsewhere. Ongoing political strife and corruption have also played a big role in people choosing to leave.
It's a story rooted in history that remains untold by the country's journalists, particularly in its modern context, and not least because of the tough social, political and professional conditions in which media across the region are forced to work.
The countries of West Africa share historical migration characteristics. The slave trade, starting in the 16th century, had long-term impacts on Africa as a whole but was particularly devastating in West Africa – the main transit area.
The trade not only caused widespread death and human suffering, with Africans treated as a commodity, bought and sold and forcibly sent across the Atlantic to the Americas and the Caribbean, it drained West Africa of millions of its young. The development of economies was severely set back as the most productive segment of the population disappeared overseas.
In modern times, colonialism imposed arbitrarily drawn boundaries but these have done little to curtail patterns of migration which, to most inhabitants, have been a normal way of life for centuries. Communities have family and kinship ties across the region, borders are porous and often unsupervised.
The formation of the Economic Community of West African States (ECOWAS) in 1975 was a bold attempt to stimulate and give form to the kind of borderless society that existed in pre-colonial times.
The free movement of people was one of ECOWAS' main principles. This was not universally welcomed: smaller countries such as the Gambia and Senegal expressed fears of economic domination by Nigeria, the Community's demographic and economic giant. At the same time, Nigerians were concerned about the possible influx of ECOWAS citizens into their country.
Despite these reservations, traditional intra-regional migration in West Africa – viewed by demographers and others as one of the world's major migration patterns – continues. The overall picture is complex and flows frequently change, due mainly to positive or negative economic factors. Over recent decades, changes in climate have become an important driver, with people escaping drought or forced to move in order to plant crops or graze cattle in more fertile areas.
Farmers from Mali move south to take advantage of better grazing at certain times of the year. They might, for example, sell their stock in Liberia and take salted fish and other produce from there back north. Young men from Burkina Faso move south to work in mines in Liberia or on the cocoa plantations in Ghana or the coffee groves of Ivory Coast.
Others, including Gambians, would traditionally move north to work in Libya and elsewhere in North Africa. Meanwhile, thousands migrate to Nigeria to work in its oil industry or other concerns.
"Migration networks go in every direction" says one American expert on the region. "I think of them as like a spider's web – long or short distances, they transcend modern boundaries."
It is impossible to gauge the extent of intra-regional migration but it is likely to run into the hundreds of thousands, if not millions, each year. It is also impossible to calculate its economic benefits: most cross-border financial transactions use informal finance networks, often based on extended kinship groups.
Such remittances are vital and are often the difference between death and survival for poverty-stricken families. Some research has been done on the level of remittances flowing in from areas outside the region.
A recent study by the World Bank says: "Remittances to Sub-Saharan Africa rose 3.2 per cent to around US$33 billion in 2014 from US$32 billion in 2013 – a significant acceleration from the modest growth of the preceding two years."
The figures show that Nigeria is the largest recipient of remittances, amounting to US$22.3 billion in 2014. This reflects the large number of Nigerians who now live and work outside their country, mainly in the UK and in the US, and who regularly send money back to their families or invest in projects in Nigeria.
More than 20 per cent of the Gambia's gross domestic product now comes from remittances, according to the World Bank, one of the highest percentages in Africa. However, this figure is likely to be a considerable underestimate, reflecting only money transfers through formal networks.
The media and migration
Covering the migration story in Gambia is a challenge for journalists because of the restrictions that have been imposed on media for more than 20 years. But even if the media were free, the Gambian context is full of challenges.
The Gambia is one of the world's poorest countries with most people living on less than $1 a day. The United Nations Development Programme index of human development in 2014 ranked the Gambia 172nd out of 187 countries in terms of health, education and other development factors.
The population of under two million, though small, is one of the world's fastest growing, doubling in size virtually every decade since the early 1960s. The country also has one of the world's youngest population profiles, with nearly 40 per cent under the age of 14. Finding jobs for this growing stream of youth is a constant challenge.
Tourism and the export of peanuts are the major sources of income, together with foreign aid and remittances from Gambians working in West Africa or in Europe and elsewhere. While there has been an upsurge in investment in the business sector in recent years – mainly by Gambians living abroad – the economy is stagnating. The recent Ebola crisis hit the tourism industry hard, even though no Ebola cases were reported in the country.
Although the constitution in the Gambia guarantees all citizens freedom of expression, freedom of the press, and many other internationally recognised human rights, the governing Alliance for Patriotic Reorientation and Construction headed by the president, Yahya Jammeh, who seized power in a military coup in 1994, has systematically undermined these rights. The government has brought in legislation aimed at silencing the media, including obligatory bonds of about US$16,000.
Media outlets have to lodge this amount with the government before starting operations and it is held as a guarantee should a court ruling go against them. Such laws have severely restricted the development of an independent media. Many journalists exercise self-censorship, afraid of provoking the office of the president.
While the media is kept firmly in line at home, the Gambian diaspora has set up a lively overseas media network, establishing online newspapers and radio stations, mainly in the US and in the UK. Most of these are fiercely critical of the government and President Jammeh and most of these outlets are rigorously monitored and blocked by the government.
Amnesty International accuses the Gambian authorities of subjecting journalists to enforced disappearance and of torturing activists: "Muzzling of dissent has had a devastating and chilling effect on human-rights defenders, journalists and political activists who have been persistently brutally targeted solely for exercising their right to freedom of expression," says Amnesty.
With little sign of change and competition for jobs growing as increasing numbers of young people leave school, desperation leads many to embark on a dangerous journey, first across the Sahara to the coast of North Africa and then to Europe.
In the Gambia, there's a special term for this dangerous and illegal journey to Europe: it's called the Backway. No one knows how many have left to take it but the number is likely to be in the tens of thousands – a significant proportion of the population. Everyone knows the Backway and its various routes. Trafficking agents based in Banjul, the capital, are the first point of contact for the would-be migrant: the usual trek involves a long bus journey from Banjul to Agadez in Niger and then on to Libya.
At one time Gambians would have stopped to work in Libya, earning their additional trafficking fare for the journey across the Mediterranean. Nowadays, with order breaking down in Libya and few jobs available, migrants can be stuck for months or even years waiting for funds to arrive from relatives already in Europe or elsewhere in order to continue their journey.
Until recently there was little reporting in the tightly controlled media about migration or of the hazards faced by those making the journey. Though migration influences virtually every family, perhaps the government did not want too many questions asked as to why numbers of people, mainly the young, were leaving. The president has made known his displeasure at this exodus.
The online Jollofnews says Jammeh has generally dismissed the economic worries of Gambian migrants. In a national TV address he said they should concentrate on working at home rather than heading off to Europe and elsewhere. "If these people (the migrants) are true Muslims … they should equally believe that their sons and daughters could have made it at home if they were ready to invest and work," he said.
Jammeh has said young people should apply their energies to working in agriculture and producing more food.
The Daily Observer state-owned newspaper published a story about a young Gambian who had tried to reach Europe through the Backway but failed: he had returned to the Gambia to take up farming.
"Alhagie Darboe is no doubt a shining example among the youths in the Kombo East District Village of Kafuta, West Coast Region. Over the years he made several unsuccessful attempts to travel through Backway, but since he returned the Backway syndrome he once had has been driven away with the coming of President Jammeh's vision 2016 and 'grow what you eat and eat what you grow'.
"Darboe said that since he returned home, he wasted no time in venturing into farming; something he said that has improved his living conditions."
The president has in the past strongly attacked European policies towards migrants, in particular a plan to bomb the boats of Libyan people smugglers. "We will retaliate against the massacre of Gambians in the Mediterranean," said Jammeh on national TV. "If the European Union is acting out and kills a Gambian I swear, I will fight back."
Early in 2015 Jammeh offered all Muslim Rohingya refugees escaping discrimination in Myanmar asylum in the Gambia. The Standard newspaper published in full a press release from the office of the president.
"As human beings, more so fellow Muslims, it is a sacred duty to help alleviate the untold hardship and suffering these fellow human beings are confronted with. Therefore, the Gambia being a country with predominantly Muslim population and with a natural culture of inter-faith tolerance hereby expresses willingness to accept and resettle all those people who wish to reside in the Gambia."
It is not clear if any of the Rohingyas have accepted the offer. The Kairo online publication – blocked in the Gambia – was sharply critical of the move. "The Gambian dictator who is evil and ruthless to his own people wants to be the world's kindest Muslim leader by offering to take in the embattled fugitives."
There are some signs that attitudes to the country's migrants might be changing in government and in the mostly government-controlled media. A civil society organisation called Operation No Way Back, led by Bubacar Jabbi, a local youth, has been raising the issue.
Jabbi, who says he became disturbed by what he calls the senseless waste of life among youthful migrants, is frequently heard on the airwaves and appears in newspapers telling of the perils of the journey to Europe. His organisation has also staged concerts and held youth camps aimed at persuading young people to stay at home.
In the Gambia, radio is the fastest and most effective way to disseminate information. Though many stations report on only "safe" topics such as sport, Operation No Way Back has been gaining more coverage.
"Backway Bad Way" is a popular song on the radio. Even government-controlled radio stations run periodic vox pops, gauging public attitudes about migration. The responses tend to fall into two categories: for every person who speaks out against illegal migration there is usually another who says that only by journeying to Europe will dreams be realised.
The government has also set up youth projects, targeting villages in the countryside and aimed at persuading young people to stay.
The state-controlled Standard newspaper has started to run regular stories on the plight of Gambians in Libya and at camps in Italy. Each edition that covers these stories of human suffering generates a flood of enquiries from family members worried about the fate of their children.
"I used to be overwhelmed by people asking if I had information on their sons or brothers each day we published news about accidents at sea," said one of the editors.
Though the media have become more active on migration, in a small country like the Gambia, word of mouth is often the main means of communication, with people influenced by stories they hear from friends and relatives, rather than by columns in a newspaper or reports on the radio. This is particularly the case among the young: Facebook and text messaging act as key drivers of migration.
A brother who has made it to Germany or the UK will text or send a Facebook message to a younger sibling back in his village. Pictures of the brother's new life will be sent. To justify the payment of precious family funds to a people trafficker the newly arrived migrant might seek to paint a rosy picture of his or her circumstances.
The young might dismiss the stories they hear of the deaths and suffering of migrants in the government-controlled press, on radio or on TV. But they will often be taken in by the more personal messages on Facebook or in a text message.
The Gambia opened its one university only in 1995. Before that, people interested in higher education had to go abroad, mainly to Europe or to the United States. These students, when returning, were nicknamed Semesters.
Today the word refers to those who travel abroad legally or illegally and then come on return visits, spending their money and talking of their lives abroad. Some use their money to help their families improve their lives and buy houses or tractors. Others use it to stage extravagant parties and show off their supposed wealth.
Many have raised loans in London or elsewhere specifically so they can return and give the impression of an easy life abroad. Gullible youths, tired of struggling in the Gambia and dreaming of life overseas, are taken in by the Semesters. A phenomenon called "Nerve Syndrome" has even been invented to describe youths becoming anxious and breaking down when they can't raise funds to pay traffickers for travel.
It seems no amount of articles or broadcasts about the suffering and death of migrants will deter these young and impressionable people. It's estimated that there are now about 30 absentee funerals every month in the Gambia of migrants who failed to realise their dreams.
"Just imagine how many deaths will happen in one year alone," says Bubacar Jabbie of the Operation No Way Back campaign. "I wonder how long we can allow the country's youth to perish at this rate?"
The media has reported on the deaths of youths risking their lives at sea on their way to Italy and Spain but it doesn't investigate many of the root causes driving migration.
And it is clear to see why this editorial vacuum remains in place – media is tightly controlled by the government and reporters resort to self-censorship because they are afraid of drawing attention to factors such as the dire economic conditions for fear of falling into disfavour with the authorities
But even if they were able to exercise their professional duties without restraint they are restricted by a paucity of resources and have no capacity to properly investigate migration: newspapers or radio stations don't have the funds to send reporters to Libya or to Italy to follow the fortunes of migrants. In many cases journalists who might undertake such projects could find that they themselves are not allowed into Europe or elsewhere
Given this difficult environment both politically and economically it is no surprise that the quality of journalism is often low and has created a crisis of trust between media and the public. Many people are generally suspicious of the media and are unlikely to heed its messages.
Instead people rely on word-of-mouth reports or social media outlets. And many of them – especially the young – dream of a better life. Often it seems they suspend any rational assessment of the dangers they face in attempting the journey to Europe, so great is their desire to get there. The migration from the Gambia shows no sign of ending and nor does the crisis that continues to cast a shadow over journalism.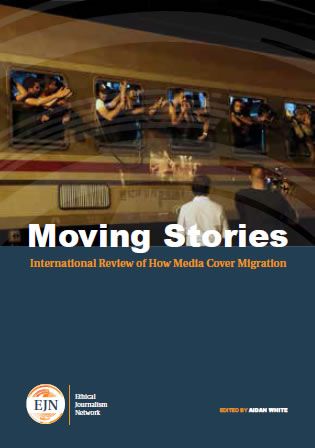 Tagged with:
Africa
,
Amnesty International
,
Censorship and Self-Censorship
,
Ebola
,
ECOWAS
,
Gambia
,
human trafficking
,
Lamin Jaiteh
,
Mali
,
Nigeria
,
West Africa
,
World Bank
,
Yahya Jammeh