TURKEY
Media under the government's thumb and migrants in a legislative limbo
By Elif Ince
The current state of mainstream media and the obstacles against a free press in Turkey have been subject to various critical studies and reports. The main problems can be summarised as: government pressure; downsizing and loss of journalistic expertise; competition for website hits killing serious reporting; and cross-ownership structures in which media owners try to keep good relations with the government and to land public tenders.
Ceren Sözeri argues in the Ethical Journalism Network report Untold Stories: How Corruption and Conflicts of Interest Stalk the Newsroom that this is leading to a media landscape dominated by self-censorship and four major corporations. She states that: "The media has become just another way to demonstrate faithfulness to the ruling party in order to survive and grow in all sectors of the economy."
Aside from business-related pressure from owners, direct government pressure on journalists has been intensifying. Hundreds have been fired in recent "downsizing/cost-cutting" operations.
Yavuz Baydar, in the Shorenstein Centre report The Newsroom as an Open Air Prison: Corruption and Self-Censorship in Turkish Journalism, paints a stark picture: "Investigative reporting, more crucial than ever, is on the verge of extinction. Journalists found themselves again in the courts and jails for professional conduct and the opinions they expressed."
Turkey is now home to the largest community of Syrians displaced by the ongoing conflict: in August 2015 the Ministry of Interior Affairs stated that 1,905,000 have arrived.
In October 2014 a new law on Foreigners and International Protection was issued that granted "temporary protection" status to Syrians and grants the right to be admitted to Turkey and not be sent back against their will. However, the government is facing criticism for leaving Syrians with a legally ambiguous status. Last year 14 NGOs protested the failure to produce a follow-up statute. They explained that refugees didn't know how long the "temporary protection" would last, what kind of status they would be given once it was over and whether they would be allowed to apply for asylum. The NGOs asked for new laws.
Before the war in Syria erupted, most refugees in Turkey were from Afghanistan, Iran, Iraq and Somalia, with many from the Middle East and the Caucasus as well. They also face serious problems regarding their status, for Turkey has not lifted the geographic restriction of its 1951 Geneva Convention obligations which limits asylum rights to Europeans. These legal ambiguities mean refugees have difficulty accessing basic human rights such as housing, education, healthcare and employment.
Two critical analyses discuss how refugees have been covered in the Turkish media. The first, titled Discrimination in Newspapers and published by the Hrant Dink Foundation in June 2015, offers a thorough account of how Syrian refugees' issues have been dealt with in the press. Hakan Ataman reviewed 177 news articles and 33 opinion columns in five newspapers during two weeks of local protests, including lynching attempts, against Syrians in Gaziantep in the south of the country. The second, by Nevin Yıldız Tahincioğlu, an academic from Hacettepe University's communications department, is titled Syrian Refugee Children in Mainstream Media and Racism.
The first examined two mainstream papers (Hürriyet and Sabah) and three local papers in Gaziantep (Olay, Gaziantep Güneş and Gaziantep) in the two weeks when violence erupted (12-24 August, 2014) followed by a Syrian refugee killing the owner of the house he was renting.
The report found that rights-based reporting was limited to 11 of the 177 news articles, half of which were press releases from NGOs and included no original reporting. Sabah, a newspaper owned at the time by Çalık Group which has close ties to the government – the chairman of the board is the son-in-law of Recep Tayyip Erdoğan (now President) and through winning major public tenders – published no articles on the events.
As for the 33 opinion columns analysed, all but three were biased against refugees. Hate-speech was widespread and some columnists went as far as asking refugees to leave the city (Olay, August 13, 2014, Tayfun Katırcı).
The report noted that of the 177 news articles only three cited Syrian refugees' opinions. On the other hand, 70 articles quoted officials and business people. No news articles cited experts from NGOs when there was not a press release.
Of the news articles 55 connected Syrian refugees with complex problems such as rent increases and unemployment. Many of these articles were based on quotes from "concerned citizens" which implied that Syrians were outsiders. Hürriyet, for example, published eight that linked refugees to social tension, rent increases and rising unemployment. The articles mostly addressed the refugee question as a security issue, talking about measures against public-order disruption. In most cases refugees were identified with crime, sex work and begging. The media, while seemingly asking citizens to "tolerate" these "visitors", failed to cover the issue from a rights-based perspective.
Syrian refugee children in mainstream media and racism
On August 18, 2014, Syrian refugees in İskenderun faced a lynching attempt, sparked by claims that a 15-year-old Syrian refugee had raped a 10-year-old boy from İskenderun. Medical reports showed the claims were false. Nevin Yıldız Tahincioğlu analysed articles on this incident published in three of Hatay and İskenderun's most-read newspapers (Antakya, Söz, İskenderun), two mainstream national papers (Hürriyet, Radikal) and one independent and left publication (Evrensel).
He found that except for Evrensel, none of the newspapers defined the events as lynching attempts. Some subheadings were "Syrian tension in İskenderun" and "We don't want to even see one (Syrian) here". Tahincioğlu explains that this normalises the attacks as the moral and just reaction of the public. The articles stated that some Syrian-owned stores were damaged, although the offenders were not named, just generalised as "angry citizens" or "the public". None of the articles quoted Syrians or their reactions to the events.
Also, the consequences weren't documented by any newspaper except for Evrensel, which reported that Syrians were beaten up after being forced to get off buses and that many were injured. Furthermore, no articles said where the Syrian child was taken into custody and under what conditions he was questioned even after he was acquitted of the false claims.
The case of Aylan Kurdi
The one moment that shaped so much of the global media coverage – and had an impact in many of the countries covered by this report – came on September 2, 2015, when the body of Aylan Kurdi, a three-year-old Kurdish Syrian, was washed ashore in Bodrum. Kurdi had been trying to reach Greece with his family but drowned alongside his brother and mother. The striking photograph made headlines in Turkey and became the centrepiece of a global media focus on the migration story.
Since then 73 results show up with the keyword search "Aylan Kurdi" on Hürriyet's website. About 70 stories can be found on Sabah, the same newspaper that, according to the Hrant Dink Report, published no stories on the Gaziantep lynching attempts. Both papers were filled with emotional headlines such as "little Aylan's heartbreaking story" and "the child that shook the world".
It can be asked what percentage of the articles were just on the family's individual story, what percentage mentioned the everyday problems refugees face, their struggle for justice or their demands. And what percentage were rights-based, or quoted refugees as sources and so on. Whether or not the photograph should have been published was a matter of controversy. But the public's reaction to it illustrates to media the importance of having reporters in the field, and active in cities where refugees live, work and try to cross borders. It also reinforces a simple and well known journalistic truth – that an iconic image can capture the essence of a story.
Some recommendations: how media can do better
Education for the media: Journalists interviewed for this report said they would like to participate in education sessions on subjects such as international conventions and refugee rights, and what terms to use while covering refugee stories, etc. One said she would benefit from a concise guide to best practices for reporting on refugees.
Education for activists and NGOs: Activists and NGOs could be briefed on how best to communicate with the media (how to pitch a story, having good visuals etc.) as well as reporting on their own (how to blog and use social media effectively, as well as technical skills such as taking photographs, recording videos, preparing infographics, etc.). Alternative media organs such as multeci.net that publish refugees' own writing could be encouraged and supported.
Making connections: Connections with refugee groups, activists and NGOs are important, especially when reporters are out reporting a story, and having trusted local sources is very helpful. So reporters need to make connections with translators and fixers. Similarly, Afghan activist Hekmat Ali said it would be very helpful for them to meet reporters/editors from various media organisations. This way they could directly pitch their stories to people they've already met.
Fighting hate-speech in the news: Hate-speech is widespread in the media and can't be prevented because the propagators face no major outcomes. It must be closely documented and reported regularly. Media that use this kind of language must be criticised. When the offence is repeated despite warnings, legal action must be taken. A committee of lawyers, journalists and activists solely working on hate-speech in the media would be useful.
Pressuring the government for a free, independent press and transparency: When access to information is restricted, such as not being allowed to enter refugee camps, the government should be internationally pressured for transparency. Most important of all, the obstacles to a free press need to be removed in order to improve the quality of reporting in all fields, including immigration.
Reporters discuss the challenge of covering migration
I asked reporters in various media outlets who cover the issues about the challenges in dealing with migration stories, their access to reliable data and statistics and for their recommendations on how to increase the quality and quantity of reporting on refugees.
Osman Kaytazoğlu, producer at Al Jazeera Turkey
How has your experience been with government transparency and access to information on refugees?
We weren't allowed into certain refugee camps. It was difficult to get permission and in those camps we could enter we faced restrictions on recording. However I have run into no problems getting statistics when working on stories for AJEnglish and AJTurk, in fact they usually answered fast.
How do you get readers interested in refugee issues?
The reader is interested in images, like in the case of Aylan Kurdi. There is first an explosion of interest but when the level of sensationalism in the media starts to decrease, readers also lose interest. In Turkey, because there is always an abundance of breaking news, the non-sensational stories don't get much attention. At AJTurk I have never faced a restriction while covering refugee stories and in fact all kinds of sacrifices were made by the news desk for me to cover these stories. I think the biggest challenge is writing without sensationalism and avoiding cliches.
Do you have any recommendations for media professionals working on refugees' issues?
More interactive features linking to international stories, for example.
Göksel Göksu, reporter at CNN Turk
Is your news desk interested in refugee stories? How has viewer attention been?
My news desk encourages these stories. I work on them at moments of crisis, such as when the Yazidis mobilised to reach the border, and I also prepare longer features. such as my documentary Journey to Death: Yazidis. This received much more attention than I expected. I had to answer many questions from viewers. Some wanted to know more, although mostly they were wondering how they could help.
What are some difficulties you've faced while reporting in the field?
In areas populated by refugees I see that people in control want to decide who I will speak with. This is a problem for objective reporting. I've also experienced trouble finding trustworthy translators. Translations are usually done by groups protecting the refugees, so they sometimes tend to manipulate claims during translation and bring them in line with their own political ideology. So I usually get unbiased people to translate my video interviews. In the field what makes my job easier is having relationships with locals.
What are some recommendations to increase quality and quantity of rights-based journalism in Turkey?
Reaching out to sensitive reporters is important. Women and children, as in many other issues, are the most vulnerable and suffer special disadvantages. Thus I think that their stories can be highlighted. However I must point out that if I decide that a story might harm a refugee or their family, I will hold back on publishing.
Burcu Karakaş, reporter
(Recognised for her human rights reporting, Karakaş worked at Milliyet from 2010 until September 2015 when she was fired along with other acclaimed journalists. Milliyet is among the newspapers acquired by corporations that have close ties to the government and have investments in sectors like energy and mining.)
What are your sources of information? How has your experience been with government transparency and access to information on refugees?
It's always easier to report a story when you're out in the field and not working from your desk. I'm in communication with various NGOs as news sources. UN websites such as UNHCR's are a major resource. AFAD, the government office for Disaster and Emergency Management, has statistics on its website but the press office doesn't always respond to questions.
What are some recommendations to increase quality and quantity of rights-based journalism?
My newspaper neither discouraged nor encouraged stories on refugees. One challenge is the media's tendency for sensationalism – as a reporter you can't decide on the headlines. The readers also respond to sensationalism, for example whenever there's sexual abuse involved, the news gets shared widely on social media. I think there needs to be less agitation and more articles offering solutions that need to quote expert views on rights and include their recommendations.
Ali Hekmat, spokesperson for Afgan Mülteciler Dayanışma ve Yardımlaşma Derneği (Afghan Refugees' Association)
What is your relationship with mainstream media?
Unfortunately mainstream media does not give Afghan refugees much attention. Especially after Syrian refugees arrived, Afghans in Turkey have been completely forgotten. The media does not follow our issues unless we reach out to them. Sometimes they don't even follow through when we ask for help publicising issues we've raised.
Two exceptions were the drowning of 37 Afghani refugees in Istanbul in 2014, and our hunger strike last year to get the attention of UNHCR. During the hunger strike in Ankara we got a lot of press and I believe we managed to get UNHCR's and the Turkish government's attention briefly. However, even after the second hunger strike, once our protests were over, media attention faded and nothing changed. The media didn't even show any interest during the first two weeks, they only starting writing once they thought it was "newsworthy". Even then, they were writing about the strike itself and not mentioning our demands for UNHCR to end discrimination against Afghanis. Media organs with ties to the government have also asked us not to mention problems related to the government.
What are some of your recommendations for the media to increase the quality and quantity of rights-based reporting on refugees?
I believe that the media is crucial in our struggle for rights and needs to break stereotypes and highlight our problems. Reporters need to be educated on refugee rights, on the legal definitions of who is a refugee and who is an asylum seeker. A major and recurring problem is calling them illegal when, according to the Geneva Convention, they are either refugees or asylum seekers, not illegal.
As I said the media in general doesn't care about our issues but if we personally knew a reporter or editor at each major news organisation that would be very helpful.
Volkan Görendağ, Amnesty International Refugee Rights Coordinator
How is your relationship with the media? How important is it for you to reach mainstream media?
We try to get in touch with all media organs, we do care for our issues to be publicised in mainstream media but it's not crucial to appear in newspapers with the biggest circulations. We can get good feedback on a story that wasn't published in mainstream media but was in alternative media. Readers who are interested in these issues and help circulate the articles on social media are those who also follow alternative media closely.
Senar Ataman, activist, founder and editor of multeci.net
When, why and by whom was multeci.net founded?
We were founded in 2007 with the support of a few volunteers. The purpose of the site is to make refugees' voices heard. Other than me three volunteers write regular columns: Taner Kılıç, Zakira Frotan Hekmat and Orçun Ulusoy. I also do reporting for the website. We're familiar with refugees, activists and NGOs working in the field and all of them are sources for stories. Refugees also reach us through the website and ask us to help publicise their problems. It's very exciting to publish refugees' own writing, as we believe that the best way for them to be represented is through their own words.
Our website is the best resource on immigration issues. It is used widely as a source of academic research. We get between 10,000-50,000 hits for news stories and columns.
Do you believe that NGOs are doing a good job of communicating refugees' issues to the general public and media?
One of the biggest problems in Turkey is that NGOs have weak relationships with the media. The NGOs help individuals but don't create mechanisms to make their voices heard. This traps the issue, which is already not so mainstream, in an even narrower circle.
What are your recommendations for refugees' issues to be better publicised in the media?
There is a real need for a wide network of journalists and refugees. This network could provide cameras for refugees to document their own issues and produce written-visual content to put the struggle for rights on the public agenda. It could also encourage journalists to follow refugees' stories more closely. This wider project would need resources and funding that we don't have.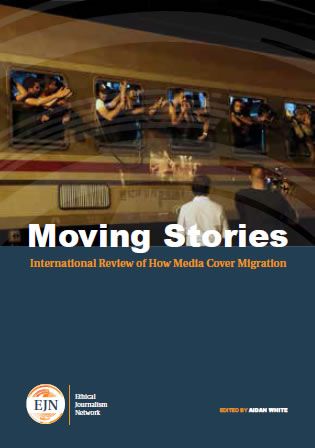 Tagged with:
Al Jazeera
,
Amnesty International
,
Aylan Kurdi | Alan Kurdi
,
Caucasus
,
Censorship and Self-Censorship
,
Ceren Sözeri
,
CNN Turk
,
Hürriyet (Turkey)
,
Media and migration | Reporting on refugees | Journalism and the "refugee crisis"
,
Radikal
,
Recep Tayyip Erdogan
,
Sabah
,
Turkey