MEXICO
Shallow journalism in a land where political bias rules the newsroom
By Elva Narcia
If significance, proximity, prominence and human interest are the factors that decide if a story is newsworthy, migration should be top of the list in Mexican newsrooms.
To put things in context, Mexico sees 400,000 undocumented people, mainly Central Americans, cross it every year on their way to the United States; about 12 million Mexicans live overseas, most of them in the US; and every year billions of dollars are sent back home as remittances.
Mexico's northern border with the United States is about 3,000 km long and goes across six Mexican States: Baja California, Sonora, Coahuila, Nuevo León, Chihuahua and Tamaulipas. The region is inhabited by about four million people. The southern border on the other hand, often described as porous, divides Mexico from Guatemala and Belize, the latter a former British colony, is 1,179 km long and has a population of over a million and a half.
Even though immigration in Mexico has great relevance that doesn't show in mainstream media; in fact, activists, academics and even journalists believe that the migration story is of no interest to newsrooms unless some kind of human tragedy is involved.
There are some cases of outstanding investigative journalism, mainly from big newspapers and digital news sites, but the news of the day is usually covered by press releases, press conferences, news agencies and perhaps something more in-depth with reports from correspondents on the southern or northern borders.
Journalist Elio Henriquez, based in the southern state of Chiapas for Mexican newspaper La Jornada, regularly covers migration stories focusing on transit, detentions, human rights abuses, protests and human trafficking. To cover the stories he, as other correspondents do, often talks to activists, civil society organisations or visits shelters for migrants but, as he admits, accessing official information is not easy.
He is not alone when he says that – several other journalists consulted for this report, also mentioned that official information comes only as press releases or statements. Ery Acuña, director of news site Monitor Sur, says: "There are legal impediments, bans to video recording at migrant detention centers – it has become almost impossible to have access to immigration authorities."
Verifying facts with official sources sometimes takes weeks or months, and journalists often have to appeal to the federal law on transparency and access to information to be able to do that. The government institutions that appear least open are the Foreign Office and the Ministry of Immigration.
To get information from the Consulates an official request has to be made to the Foreign Office in Mexico City and it often takes weeks or months for them to respond. As journalists work on tight deadlines they often have to publish or broadcast a story without the official side of it, or they have to dig for quotes and information that have already been published in newspapers or websites.
In addition, reporters covering migration face a number of risks: Mexico is still one of the most dangerous countries for journalists – 80 have been killed and 17 have disappeared in the past decade. During the past five years organised crime has been closely linked to human trafficking. Tamaulipas and Veracruz states have become particularly dangerous.
Journalists seem to be aware that the migration story is not covered with the depth, frequency and professionalism that it should be. "We should be talking more to the experts and going into the field more," says Francisco Mendoza, a reporter from the state of Guadalajara who did outstanding investigative work, accompanying a group of human smugglers for two weeks crossing the border between Mexico and the United States.
But investigative reporting can be expensive; some media outlets are doing it with the help of international organisations such as the Ford Foundation and the Open Society Institute. The big players, mainly newspapers and television channels, fund investigative journalism but not particularly on immigration.
Funds for field work have become scarcer says Elio Henriquez, and it seems that the financial situation of most media organisations is a major challenge. Government advertising plays an important role in keeping them afloat but the consequence seems to be to surrender editorial control.
"To survive, 99 per cent of Mexican media depend on the government," says Gardenia Mendoza, Mexico correspondent of La Opinión, a Los Angeles-based daily and editor of a specialised news agency on migration, D'Exodo. She believes that the apparent lack of interest in migration from Mexican media lies in a strong dependence on government advertising and "the government is not interested in migration, it is a topic unknown to them, the government is too self-absorbed and it always wants to see stories about itself in the media".
In fact, when we open a newspaper or tune in to news programmes on radio and television, we find dozens of stories on politics or about politicians: "If the vote of Mexicans living overseas had an influence on the balance of power in the country, the situation would be different," and migration would perhaps be at the top of the agenda, says Gardenia Mendoza.
Gerardo Albarrán, the Ombudsman of Radio Educación, a public radio station, is extremely critical of Mexican media because "it was born to serve the political power" rather than the people. "Media are more interested in surviving as a mercenary industry – what they haven't realised is that journalism, good journalism, is our business and it could be a really good business if what we write, if the stories we tell, touch the souls and hearts of our readers, of our audience."
And it seems that is not only about listening to the audience and addressing the issues that are important to them, but also about developing a more proactive, media savvy society that would be ready to demand quality news and information. That is the opinion of journalist Marco Lara Klahr, author of several books on media and justice and an expert in investigative coverage of crime, violence and conflict.
"What we have here is a lethal combination: a lack of political communication platforms within the official institutions capable of providing information with a human rights perspective; a government that polarises, criminalises and discriminates; a news industry that produces information that in the end is disinformation; disempowered journalists and an apathetic society."
Stereotypes and how media get a helping hand
One of the main criticisms from activists, civil society organisations and academics is that media coverage on migration rarely goes further than the news of today.
Professor Ana María Aragonés, from the Institute of Economic Research at the National Autonomous University of Mexico (UNAM), who is also a columnist at La Jornada, laments that coverage of migration focuses mainly on tragedies, with a lot of drama involved, victimising migrants and often using sexist and discriminatory language. "It is important to discuss not only migration as a phenomenon but also the reasons behind it, the impact of it on national development, the impact on democracy," she says.
And as Professor Aragonés points out, stories of dismembered bodies, assassinations, rapes, robberies, kidnappings, mass graves are what get covered in the news, more so when the perpetrators are from organised crime or the security forces. National TV news reports are rarely more in-depth.
Gardenia Mendoza calls it a "vertical coverage", centred mainly on what happens in Mexico, particularly with a focus on security. and what happens with Central American or Mexican migrants here until they reach the Rio Bravo and the US. The stories hardly ever cross borders.
Gerardo Albarrán says that when covering migration some media outlets tend to create stereotypes so that, for example, Salvadorans and Hondurans are portrayed as gang members, Colombians as drug dealers, Central American women as prostitutes. When a Colombian woman was assassinated with five Mexicans on July 31, 2015 in a Mexico City neighbourhood, some media hinted that because she was a Colombian she could have been involved with organised crime. She was young and also a model and so some reports suggested that she could have been a prostitute.
"There have been many media stories that suggest that migrants in transit through Mexico bring criminality and that migrants themselves are criminals," adds Maureen Meyer, Senior Associate for Mexico and Migrant Rights at WOLA (Advocacy for Human Rights in the Americas). "There is a tendency to view the migrants as creating problems, not as a vulnerable population in need of support."
Undoubtedly, the media influence perceptions towards the migrants, and the challenge is to offer journalistic coverage with a human rights, gender, child protection perspective, not forgetting that migrants had to leave their countries either in search of a better life, escaping poverty or in some cases, for security reasons.
Gerardo Albarrán points out that society and the Mexican press treat migrants in the southern border area worse than Mexican migrants are treated in the southern border of the United States and "that is something we omit, we fail to acknowledge, we decide to ignore or to hide. Why don't we give migrants a face and a name?" he wonders, "because in Mexico people don't have a face, people become numbers, press releases, and government statements".
Even though the panorama looks so bleak there are exceptional pieces of high standard investigative journalism. Salvadoran news site El Faro is a good example of a regional effort to cover migration from Central America through Mexico and all the way to the United States. With financial support from the Open Society Institute it covers all the complexity and its implications for security, human rights and democracy.
There is also a book, "Me decían mexicano frijolero" by Ana Luisa Calvillo, a 108-page testimony of Roberto Rangel, a migrant from the Mexican State of Michoacán sentenced for homicide to a 57-year stretch at a maximum security prison in La Soledad, California, for a crime he did not commit.
There are also other examples of media funding investigative journalism on migration, such as the newspapers El Universal and Reforma or news sites Emeequis, Sin Embargo, Animal Político, or political magazines such as Gatopardo, but for coverage of the extent of the phenomenon and its complexity the main challenge is still the day-to-day coverage in which sexist, racist and chauvinist language still persists, according to Marco Lara Klahr.
Part of the problem is unreliable sources, untrained journalists, a media industry addicted to press releases and statements of government officials, unverified news stories and news stories published with only one source.
Towards good practice and quality reporting
There has been some excellent coverage from some Mexican media outlets on the plight of migrants as they travel through the country. For example 72migrants.com, a multimedia project that pays tribute to the 58 men and 14 women from Central and South America murdered by the Los Zetas drug cartel in 2010 in the village of El Huizachal in the municipality of San Fernando, Tamaulipas.
In the words of Alma Guillermoprieto, who coordinated the project, the idea was to express outrage and to return names, faces and identities to each victim "because for some media outlets and local authorities, the migrants were just corpses and numbers, not lives cut short, broken families or truncated dreams".
The project, in which prominent writers, artists, activists and political scientists took part, started as a "virtual altar", a website with texts, photos, music, flowers and donations, then added a series of radio programmes that were broadcast at a university radio station, Radio Universidad. One year later it became something more permanent – a book edited by Almadía and Fronteras Press.
There is also the series on Mexico's Southern Border Plan produced by digital news site Animal Político in collaboration with CIDE (Centro de Investigación y Docencia Económicas), a Mexican centre for research and higher education, with the financial support of the Ford Foundation.
The project "Southern Border Plan: Hunting migrants" explores the impact of the Mexican government plan supposedly designed to facilitate the legal flow of commerce, tourism and guest workers in the region, but as some media report, the plan pushed migrants to more dangerous routes and it made Mexico a barrier for undocumented persons heading to the United States.
Animal Politico's investigative journalism took reporters across the border and through the migrant routes, collecting testimonies, talking to official and unofficial sources.The production took about five months and involved a large team of journalists, graphic designers, editors, videographers, researchers and writers. It provides context, infographics, videos, photos, testimonies of migrants, information from government officials, expert opinions and comments from readers.
An important element was the security protocol. According to one of the producers, Manuel Ureste, journalists in the field reported on a regular basis to the news editor or to other colleagues, and always followed local advice, especially on no-go places where drug cartels actively operate.
En el Camino (http://enelcamino.periodistasdeapie.org.mx/) is another successful online project produced with the support of the Open Society Foundation by Periodistas de a Pie, a network of professional local journalists. As the website states, the purpose was "to make an adequate coverage of migration with an inclusive language, with an emphasis on human rights and respect for human dignity". The intention was "to contribute to the construction of a culture of journalism that is closer to the reality of immigration, to explain the reasons behind the exodus, the inferno of the route to reach the American dream, the loneliness of the deported".
The website contains written reportage, short pieces of video and photo galleries. The story of San Fernando, for example, described as a ghost town in the border state of Tamaulipas, shows silent streets, run-down buildings, memories of women raped, murdered, buried in mass graves, people burned alive … an atmosphere of mistrust among the sparse population.
Another story describes an eight-day search of migrants through Tamaulipas, the most used route and probably the most dangerous, for undocumented people on the way to the United States. What the journalists found, they say, were signs of an "invisible and silent exodus that moves inside trailers or hotels and only emerges in the form of mutilated or assassinated bodies".
With the examples mentioned above, it would seem that any strong journalistic coverage on migration would require time, money and a large number people, but Gardenia Mendoza believes that stories are out there waiting to be told, the only thing journalists need is to keep ears and eyes open, to talk to sources, to talk to migrants and to civil society organisations actively involved in the reality of the migrants.
Gardenia was particularly surprised by the way local and international media covered the story of Mexican government officials allegedly exploiting Cubans passing through en route to the United States. "It was like the whole package was there, available to journalists – testimonies, government officials' statements, audios, videos … everything."
Recommendations for action
It seems necessary to increase coverage of migrants in transit in larger media outlets and Mexican TV. Although online and alternative media have done a wonderful job putting a human face to the migrants travelling to Mexico and the ways they are abused their reach is limited.
Changing the population's perception of migrants and increasing pressure on the government to address crimes committed against them (kidnappings, murder, extortion, sexual assault) requires more mass media coverage and particularly more with a human rights perspective.
Introducing a code of ethics and editorial filters that ban from newsrooms racist, sexist and discriminatory language is crucial. Training journalists on migration and human rights and regular feedback sessions on content produced and distributed, could, perhaps, contribute to professionalisation of media. Playbacks and post-mortems have proven useful.
Coverage of migration has until now focused mainly on security and tragedy, Exploring new angles requires regular insights from sources, civil society organisations, migrants themselves and the audience.
Interacting more actively with the audience could be an inexhaustible source of information and story ideas. Working on media literacy in Mexican society could also build a more proactive audience that demands quality news and information.
Access to information from official sources seems to be a challenge. But organised pressure from media outlets and civil society organisations could perhaps influence the way government officials talk to the media.
Establishing a safety protocol for journalists, particularly in current times, is essential; and exploring alliances with different media outlets to increase the reach of coverage, especially in light of the financial difficulties, could be a way to ensure editorial independence.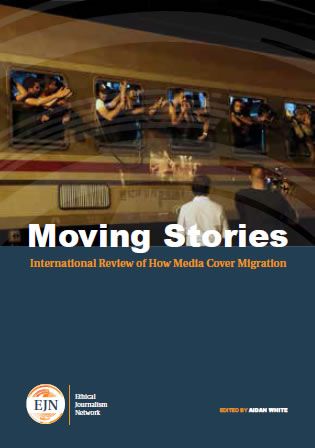 Tagged with:
Americas
,
Elva Narcia
,
Mexico
,
North America