BRAZIL
Where politics takes precedence over the people who make it
By Jan Rocha
In Brazil, a country of migrants, former President Dilma Rousseff is the daughter of a Bulgarian migrant. President Juscelino Kubitschek, who built Brasilia, the country's capital since 1960, was the son of a Czech migrant. The father of Milton Hatoum, one of Brazil´s best-known writers, came from the Lebanon. The very first migrants were the Portuguese, who arrived in 1500, decimating the indigenous population with war and disease.
Over the next 300 years the slave trade brought an estimated eight million Africans to work in the goldmines, sugar plantations and coffee farms. The next big wave of migration came from Europe in the 19th century, when shiploads of impoverished peasant families, mostly Italian and German, arrived to farm and work in the new industries.
At the beginning of the 20th century, Japanese immigrants escaping from poverty arrived to work on the coffee farms. Today Brazil has the world's largest concentration of ethnic Japanese living outside Japan.
After World War One and the collapse of the Ottoman empire Turks, Lebanese and Syrians arrived and in between the wars came Jewish refugees. After the establishment of Israel, it was the turn of the Palestinians. In the 1970s, thousands of new exiles arrived, fleeing right-wing dictatorships in neighbouring Argentina, Uruguay and Chile.
As Brazil entered a period of economic prosperity in the early 2000s migrants came from the USA and Europe, escaping the economic downturn in their own countries.
Over recent years the tightening of restrictions on Africans trying to reach Europe led many to look to Brazil instead. The 2010 earthquake in Haiti, which caused thousands of deaths and widespread devastation in one of the world's poorest countries, caused an upsurge in migration to Brazil.
Between 2000 and 2010 the number entering Brazil rose by almost 90 per cent, to reach more than a quarter of a million. The Haitians chose the country for various reasons: Brazil had built up a considerable presence in Haiti since 2004, when the Brazilian military took over the UN Stabilisation Mission. After the earthquake, many Brazilian NGOs provided aid.
For thousands of Haitians, Brazil became the new promised land, even though reaching it involved an arduous 6,000-kilometre-long journey. They came illegally, catching a plane from Port-au-Prince, the Haitian capital, to Quito, the Ecuadorean capital, and then paying coyotes, or people smugglers, between US$3000 and $8000 to take them across the Peruvian Amazon and in by the back door, a journey that can last up to three weeks.
Federal authorities calculate that almost 40,000 Haitians have arrived by this route in the past four years. In 2012 the government created a new type of document – the "Humanitarian Visa', valid for five years, which enables migrants to work and reside legally. The government also intends to allow the consulate in Port-au-Prince to grant more visas, increasing from 600 to 2,000 a month, as part of a policy aimed at cracking down on the operations of the coyotes. Joint actions with Ecuador, Peru and Bolivia to fight the people smugglers have also been proposed.
While in recent years Haitians have made up the majority who arrive via the illegal Amazon route, more and more Africans, especially Senegalese, have also been taking the same difficult route in search of better economic opportunities. Part of the reason for this new flow is Brazil's growing presence in a number of African countries through its oil and construction companies. It also funds a number of agricultural and educational projects in Africa.
Migration has not all been inward. In the 1970s, after the giant hydroelectric dam of Itaipu flooded their lands, thousands of small farmers trekked across the border into Paraguay, where land was cheap. In the 1990s, when hyperinflation took hold and the economy stagnated, many thousands of young Brazilians made their way to the USA and Europe in search of work.
Internal migration is also a major factor and has long been a common feature of life. Hundreds of thousands have left the impoverished northeast – especially during periodic severe droughts – to find work in São Paulo, the country´s biggest city and economic powerhouse. In the 1950s, the opening of car factories stimulated the exodus. Among the migrants was a small boy, Luis Inacio da Silva, travelling with his family in search of a better life: many years later he would become president – widely known as Lula.
Migration: A media story in political form
For all of this movement of peoples that has shaped the country in all aspects of its cultural and social development the Brazilian media coverage of migration and migrants is sporadic – sometimes positive, sometimes negative.
In the mainstream media, the growing influx often only becomes a story when it can be directly related to party politics. The national media, overwhelmingly conservative and critical of the Workers Party (PT), which has been in power for 12 years, tends to publish stories about migrants which show the PT government and administrators in a bad light.
In May 2015, busloads of Haitians suddenly arrived in São Paulo, coming from Rio Branco, capital of the Amazon state of Acre, where they had entered Brazil. Both Acre and São Paulo are governed by the PT, and the conservative newspaper O Estado de São Paulo reported the story in a political context, discussing it primarily in terms of arguments and policy differences between local officials.
"The mayor Fernando Haddad accused the federal government and the PT administration of Acre of disrespecting the rules drawn up in 2014 for the transport and shelter of Haitians in the city," reported O Estado de São Paulo. "Haddad's criticism was a reaction to the sending of 500 immigrants at one go from Rio Branco to the capital."
The Acre state Secretary for Justice and Human Rights, Nilson Mourão, said he did not know of any agreement and denied that Acre wanted to get rid of the migrants. He said: "We are not disembarking Haitians in São Paulo as though they were rubbish (but) we are exhausted. For five years we have been involved in this struggle." It was reported that 30 Haitians a day were crossing the frontier.
The newspaper used the situation not to criticise the precarious conditions of the migrants, arriving in São Paulo with nowhere to stay, but to attack the PT for not coping properly. In an editorial the same newspaper also attacked the special "humanitarian" visa given to Haitian migrants.
"If these human beings were to be treated like animals, it would have been better to stop them entering Brazil – as does every country whose government … measures the consequences of a migratory flux," said the editorial.
"Without this visa, they (Haitians) would have to be repatriated. But the PT federal government, with the aim of showing its 'humanitarian' side, has created an instrument to regularise the situation, stimulating the entry en masse of new illegal immigrants."
The same humanitarian visa was criticised in a different manner by the blogger João Paulo Charleaux, writing in the online Brazil Post, an affiliate of the Huffington Post, on April 25, 2014. "What happened to the country of solidarity which we said we were?" said Charleaux.
"Suddenly the nobility of the gesture has gone and all that remains is a game of pass the buck between the federative entities which show themselves every day more lost in dealing with what has become a hot potato.
"While they are in Haiti the Haitians deserve enthusiastic speeches of support, campaign hospitals, engineering works and games by the Brazil soccer team but when they get to Brazil, they are received first in a dusty overcrowded camp, then soon sent down by bus to an uncertain destination, arriving in a megalopolis like São Paulo without even knowing where to go."
In 2014 the Ebola outbreak in West Africa led to widespread and sensationalist coverage after a refugee named Suleymane Bah, who had recently arrived from one of the countries most affected, Guinea, sought help at a hospital, complaining of a high fever.
Bah was immediately treated as an Ebola suspect and flown to Rio in a specially equipped Brazilian Air Force plane to an isolation hospital, and subjected to examinations. For days the press speculated on the possibility of an Ebola epidemic brought by African migrants. He was eventually diagnosed with flu symptoms.
What was described as the Brazilian media´s "incompetence and lack of ethics" in their coverage was severely criticised by researchers at the National Public Health School in Rio (ENSP). Research coordinator Sergio Rego said the incident showed the media´s lack of preparation for dealing with the situation. "National newspapers with large circulations published the name of the patient, and details of his documents. He is a refugee and should not have his data exposed. Instead of protecting the victims we run the risk, once more, of blaming them.
"The cynical posture of the media may encourage more racism, xenophobia and discrimination in the population, traditionally lacking in quality information. Also lacking in information are the journalists who refer to Guinea as the patient´s country, forgetting that there are three Guineas in Africa (Bissau, Equatorial and Conakry); or worse, when they opt for the adjective African, homogenising the population of a continent of over a billion inhabitants."
The non-mainstream press has tended to take a more sympathetic line, publishing informative and positive stories, sometimes sending reporters to investigate local conditions.
On June 7, 2015, the regional paper Zero Hora, of Porto Alegre, capital of Rio Grande do Sul – one of the southern states which has received large numbers of migrants – published an 11-page report on the Haitian migrants, called "Hell in the Promised Land", written by journalist Carlos Rollsing, with photographs by Mateus Bruxel.
After describing the inadequate conditions in the overcrowded shelters where the migrants spend their first days or weeks, the two accompanied a group of 18 men and women on the 79-hour-long, 4,000-kilometre bus journey from the hot and humid Amazon to São Paulo. Among other travel hazards – pot-holed roads, precarious wooden bridges over swollen rivers, mosquitoes and a five-hour breakdown – they endured the rants of a xenophobic passenger who foretold the massacre of black immigrants.
Arriving at the city's enormous bus terminal and unable to speak Portuguese, the migrants, all Haitians, were cold and hungry, confused and lost. Zero Hora reported that they were suffering from "a lack of information, the terrible difficulty of communication and a certain fear of behaving in the wrong way". But Brazil´s metropolis, "so much desired and idealised", was where they hoped to find work.
"Thousands have managed to find work in the southeast and the south, overcome the difficulties and now support their families back home," said the report. "For them, the sacrifice was worthwhile. But there are many who came with the hope of not becoming (mere) labourers, who see the experience with frustration."
When not using migration for political ends – mainly to criticise the PT party – the national press has occasionally published stories that convey some idea of the wide range of experiences, positive and negative, experienced by migrants. A 22-year-old Haitian, DJ Cayes, who had been in Brazil for three years, told the O Estado de São Paulo: "Here I am earning money. I can earn R$300 (approximately US$100) a night at clubs, playing techno music. The trip was worth it."
A more recent arrival, 31-year-old beautician Muta Zhephiran, told the same newspaper of her ambitions. "In Haiti they talk a lot about Brazil. They say there are good opportunities here. It was my dream to come." She arrived in São Paulo hungry and tired after the four-day journey from Acre, and was sleeping at the church-run Peace Mission, where two large rooms have been set aside for the new arrivals.
Alexandre Martins, a specialist in media analysis, says: "A superficial analysis of the online coverage of immigration presents positive aspects when it shows some of the difficulties migrants face when they arrive." "What is noticeable is that these news items obtain low audience ratings, indicating that they are not a theme of interest to the Brazilian reader."
Even in cities which have seen a substantial influx, interest is low. Martins says there is "no obvious prejudice in the coverage" but feels that the lack of interest could be due to the weakness of the stories presented, which "fail to arouse the interest of the reader enough to make him reflect on such a sensitive social question".
However, a group of organisations investigating human-rights issues found it necessary to publish a manifesto warning about the media treatment of migrants from Africa, Haiti and South America arriving in Brazil. They said that in many cases, the media had "assumed a tone of criminalisation and alarmism".
To help combat such coverage, in May 2015 the United Nations High Commission for Refugees (UNHCR) organised a meeting with migrants and refugees to which the press was invited. Several spoke about their experience in Brazil.
Syrian refugee Miguel Majd said he had been surprised, when questioned by immigration police on entering Brazil, not to be asked about his religion. "Nobody asked me, are you a Christian or a Muslim?" Another immigrant said that while there was discrimination, many people were welcoming, though he was surprised at the level of ignorance or interest about where migrants had come from. And another said, "They (Brazilians) thought we were running away from our country because we were murderers."
Inequality, racism and partisan media
Brazil´s migrant background and traditional support for the United Nations means its official policy towards migrants and refugees is positive. Although overwhelmingly a Christian country, all religions are tolerated, and religious persecution is minimal. But it is also considered to be one of the world's most unequal countries with yawning gaps between the rich elite and the poor, which affects both Brazilians and migrants.
In a country where almost everybody can claim a migrant ancestor, Brazilians have a tradition of accepting foreigners. Yet racism – the legacy of 300 years of slavery – persists, even in what is, formally, a racial democracy. Afro-Brazilians have less education, earn lower salaries and die earlier than white Brazilians. They are over-represented in the prison system and under-represented in government.
This means black migrants are subject to discrimination, not because they are migrants, but because they are black. When the press uses the emotive words "avalanche" and "invasion" to describe the growing numbers arriving, in almost all cases they are referring to black migrants, not white ones. Ignorance about the rest of the world, including geography and politics, means that few Brazilians know where migrants come from, or why refugees have left their countries. Migrants often express a wish for Portuguese lessons, not generally on offer except at some charities such as Caritas.
But many problems encountered by migrants are the same faced by Brazilians: inefficient bureaucracies slow down the recognition of overseas documents, like university diplomas; public services are often understaffed and inadequately equipped.
Brazil has become an increasingly popular destination for both migrants and refugees from all over the world, as traditional destinations become more difficult to access. Until recently, unemployment was low, but since 2014 the economy has gone into recession: this could lead to greater resentment as competition for jobs becomes ever more intense.
Some migrants, however, have found niches where their particular skills give them an advantage, like the Senegalese employed by firms exporting meat to Middle Eastern countries, because, as Muslims, they know the necessary halal techniques. Or the Haitians employed in a club in São Paulo frequented by Jewish immigrants from Europe, because they speak French.
Media coverage is volatile but could become more openly hostile if unemployment increases and the government cuts more jobs in public services. The recent growth of intolerance in Brazilian politics – as evidenced by strident calls for former President Rousseff to be impeached or forced to resign – could spread to migrants, if one of the political parties saw attacking them as a vote-catcher.
Such a situation could be exacerbated by a partisan media, often subservient to powerful political interests. The alternative and regional press generally strive to be positive and informative on migrant issues, running stories similar to that reported in Zero Hora. But it is the mainstream media, especially radio and TV, that most influence public opinion.
This highly influential sector could be doing a lot more to inform their viewers, listeners and readers about the context of the recent migration. They could provide background information about the countries they come from, why they come, their motives in migrating or fleeing their home countries.
The media could also remind Brazilians that most of their ancestors were migrants and how they helped to make Brazil what it is today. The role of black migrants, historically brought as slaves, is especially important: their labour not only built the economy but created the art and culture that is the essence of modern Brazil.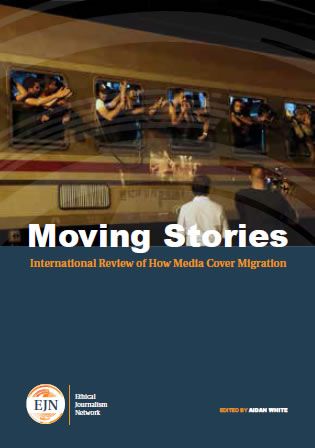 Tagged with:
Brazil
,
Dilma Rousseff
,
Haiti
,
Juscelino Kubitschek
,
Media and migration | Reporting on refugees | Journalism and the "refugee crisis"
,
migrants
,
São Paulo
,
South America
,
UN Stabilisation Mission
,
UNHCR