JORDAN
Lost Voices in a Land Built on Migration
Daoud Kuttab
Since its first days, the Hashemite Kingdom of Jordan has been a destination of choice for refugees and migrants. Within two years of Trans Jordan declaring independence in 1946, a large number of refugees flooded the tiny desert country east of the Jordan River. Over the years refugees and migrants would become part of this young Kingdom's DNA.
This first batch of Palestinian refugees did little to change the landscape of media in Jordan. East Jerusalem was still in Arab hands and media outlets stayed in Palestine which, at the time, had a superior level of educated intellectuals, schools, colleges, and a decades-long tradition of newspapers, books, radio, film and cinema. However, the June 1967 war had a much more profound impact on the media scene in Jordan.
As the Jerusalem and the rest of the West Bank fell into Israeli hands, newspapers and the once famous Ramallah Radio station were no longer able to work and press owners quickly moved to Jordan. While many of Jordan's population were refugees of the 1948 and 1967 wars, most didn't live in refugee camps and refused to take UN rations and other services. Many businessmen and intellectuals became involved in various media ventures.
The Al Issa family who were the publishers of Filastine (Palestine) since the early decades of the twentieth century set up Al Rai along with other partners. Slowly the government moved in to take it over and as a result Al Rai has become the newspaper of record for Jordan. Others, led by the Sharif family set up Ad Dustour, a daily newspaper that has become the unofficial voice of Palestinians in Jordan. Radio and TV would continue to be government property and while Palestinians worked in these media outlets, they didn't have a clear and independent voice at Jordan Radio and TV Corporation which became part of the ruling government's media landscape.
The media scene for refugees, migrants and even citizens remained relatively closed between 1967-1989 when Jordan ended its state of emergency and witnessed a return to democratic rule with the elections of an East Bank-only parliament.
Refugees and migrants continued to arrive in Jordan as different countries witnessed wars and civil disturbances. The Lebanese civil war brought trends of thousands of migrants but coming from a strong media country, their voices were reflected in the media back home rather than in the new temporary country they had involuntarily moved to.
The invasion of Kuwait in 2000 brought the biggest influx of returnees who were mostly Palestinian citizens of Jordan that had sought work in the wealthy gulf state. The invasion of Kuwait by Saddam Hussein, which Jordanians and Palestinians didn't clearly denounce, brought a wave of 400,000 returnees. In addition to this, a young Jordanian prince, Abdullah, son of King Hussein (who would later become king), married a Palestinian Jordanian, Rania Yassin. A new wave of weekly newspapers were established by some of the journalists that had worked in Kuwait. Nidal Mansour's Al Hadath attempted to reflect the aspirations of these returnees but like all other media in Jordan the content was general and did not specifically concern any single group.
The second Gulf war, however, saw a new group of Iraqi migrants, many with suitcases loaded with cash. They quickly became involved in business and real estate but stayed away from politics and media. The fact that many of the Iraqi refugees/migrants used Jordan as a transit country in order to reach other destinations (Canada, Australia etc.) meant that there were no serious issues that needed to be addressed by Iraqi-owned media.
It would be another decade before an Iraqi businessman would set up an Iraqi FM radio station in Amman, taking advantage of the 2002 audiovisual law, which opened up the media landscape and was widely seen an important step for media freedom in Jordan (http://www.huffingtonpost.com/daoud-kuttab/audiovisual-media-in-jordan_b_6850912.html). Forat FM, however, kept out of politics and didn't even broadcast news. It provided light entertainment and quiz shows for a population that was happy to hear someone with an Iraqi accent on the airwaves.
Smaller groups of migrants have also made Jordan their homes. Over the years some Muslims from former Soviet Union countries returning from the Haj in Mecca decided to make Jordan their new home mostly in the Zarqa area. Other migrants came from Ethiopia, Sudan, Yemen and Somalia. But these groups rarely featured in the media landscape. Apart from occasional one off articles, most migrant voices were totally unheard. The Syrian crisis has created the largest group of voiceless migrants. Numbering nearly a million and a half, Syrian refugees in Jordan are only given a voice in Jordanian media when a celebrity (like Angelina Jolie) or a United Nations official makes a public visit. Such voices are usually scripted and they do little to reflect the real views or the social realities of the Syrian population.
The only efforts to mitigate this problem have come from Syrian media (usually based outside of Jordan) and efforts by non-profit media organisations. Freelance Syrian journalists working for Turkish or European-based media continue to work in Jordan but they cover Syrian migrant issues from the point of view of the conflict inside Syria rather than provide any detailed focus on the daily lives and the humanitarian conditions in which refugees live.
A number of European governments, Japan and UNESCO provided support for training and the production of a weekly hour-long programme on Yarmouk FM (part of Yarmouk Public University) and Farah El Nas radio (part of the Princess Basma Foundation). The project included the training of Syrian journalists and gave Syrian migrants a chance to call and speak about some of the challenges that they were facing. The programme ran from 2012-2015 and ended because of lack of funding.
Another more ambitious and long term project was carried out by the Amman-based non-profit organisation Community Media Network (CMN). With funding from the United States government and other foundations, more than 100 Syrians were trained over a five-year period. Trainees were provided with work opportunities and paid a stipend for their work. While Jordanian law doesn't allow Syrian migrants to work as journalists, the stipends were provided as travel and communications expenses rather than as a full time contract.
Syrian migrant trainees became the key part of a daily radio programme on Radio al Balad called "Syrians Among Us". The idea of the programme was focused on training Syrian journalists and coupling them with local Jordanian reporters with the aim of empowering Syrians and as part of an effort to counter the hate speech that at times poured from local Jordanian media. The daily 10-minute bulletin was broadcast on several Jordanian radio stations including the official radio station in Irbid and the Voice of Karak in addition to the broadcasts on Radio al Balad in Amman. The daily bulletins were also posted online and distributed as podcasts. Daily headlines of the bulletin were translated into English and made available via a mailing list to diplomats, NGOs and UN officials. The radio programme also included live reports from a field reporter in the Zaatari camp. However, the Zaatari reporter had to use an alias for fear that he might be punished for working as a journalist without a permit.
Some of the Syrian migrant journalists trained by Community Media Network were involved in some of the most hard-hitting investigative reports that were produced in Jordan by the investigative journalism unit at Radio al Balad. Investigations included issues of corruption, forced deportation, and the confiscation of official documents of Syrians.
Syrian migrant journalists that have benefited from training in Jordan have also been able to use their newly-developed skills to find jobs with major Arab and international media outlets. They provided a chance for Syrian issues to be regularly covered by regional and world media outlets. One of the problems facing Syrian migrants has been the lack of access to reliable and useful information. Most Syrian refugees have no idea where to go and who to talk to in order to resolve basic humanitarian issues.
One attempt to address this problem was a media project organised by CARE International. The project included the commissioning of a 45-minute video that has been screened in various offices of the United Nations High Commissioner for Refugees (UNHCR). The video, that plays on a loop, provides simple information such as where to go for registration, signing up for schools and how to fill out basic forms. The video, which is repeatedly played in the various arrival points for Syrian refugees, also includes uplifting reports and success stories of Syrian migrants in Jordan.
Despite all of the above efforts, most observers feel that this is nothing more than a drop in an ocean. With such a huge population that counts for nearly one fifth of the entire population in Jordan, it seems that a much more robust effort is needed to provide Syrian refugees with a voice and a medium by which they can express themselves. Media communication is not only necessary to give Syrian migrants a voice but it is also important to provide them with basic information, public health guidance and various other crucial issues related to the lives of Syrian migrants. More should be done to fill this void and to provide wider public understanding of their situation if the plight of refugees is to be eased.
Daoud Kuttab is an award winning Arab journalist and media entrepreneur. He is former Ferris Professor of Journalism at Princeton University and the director general of Community Media Network. More on daoudkuttab.com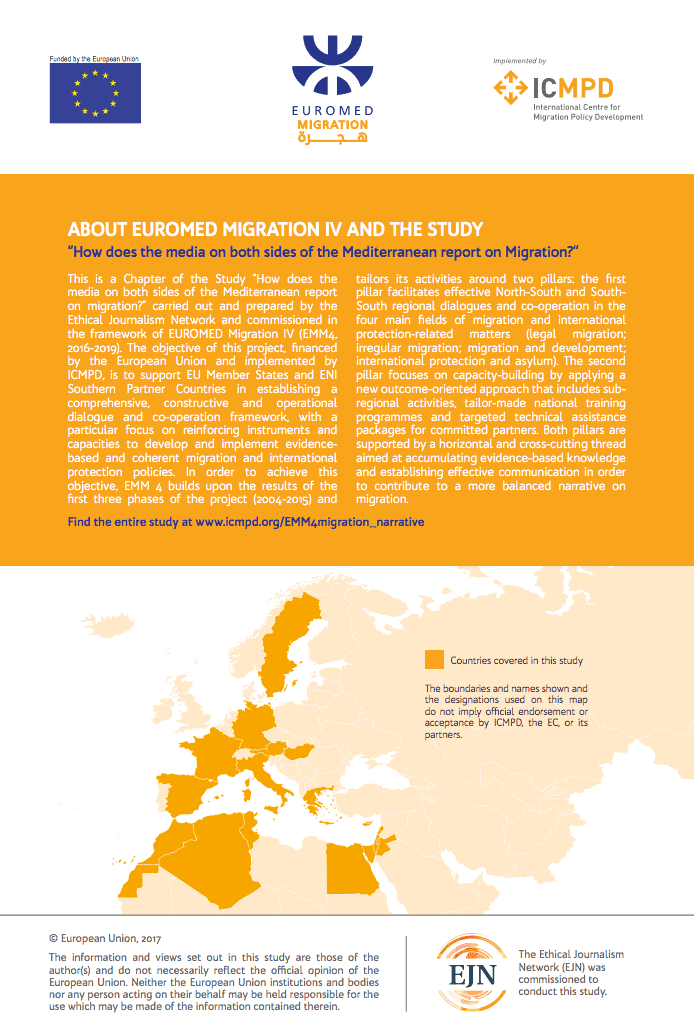 Tagged with:
Daoud Kuttab
,
Euromed Migration IV
,
International Centre for Migration Policy Development (ICMPD)
,
Jordan
,
Media and migration | Reporting on refugees | Journalism and the "refugee crisis"
,
Mediterranean
,
Middle East